Workmens Compensation Lawyer Meriden
If you got hurt on the job we're here to protect your rights and obtain the compensation you deserve. Workmen's compensation coverage applies to both injuries and occupational diseases. We will work to try to obtain what you need to take care of the costs of your medical bills and lost paychecks. We will fight for you even when your employer discriminates or retaliates because of your claim.
We represent workers in all job categories at all job sites. Back injuries, neck injuries, traumatic brain injuries and injuries from falls change life drastically for the worker. Work-related illnesses do the same. For example, people get sick from mold exposure.
If you or a loved one are a victim of an on-the-job injury or health hazard, trying to handle your own case is complicated and could result in a claim denial. It would be better to call us instead. We aggressively protect workers' rights and prepare strong cases for them.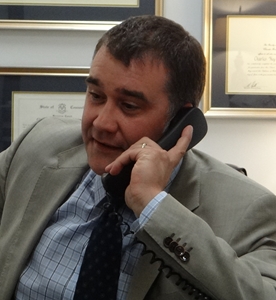 Charles K. Thompson
ATTORNEY AT LAW, LLC
Are You Looking for a Car Accident Lawyer in Meriden?
The Bottom Line: If You've Been Hurt in an Accident on the Road or on the Job, You Need an Experienced Personal Injury Attorney on Your Side. Call 203-235-0373