Worker's Compensation Lawyer New Haven
Attorney Charles Thompson is an experienced workers' compensation lawyer in the New Haven area. If you were injured or became sick due to an incident at work, we will protect your rights under the law and seek compensation for you. There are many types of workplace injuries and illnesses caused by negligence including but not limited to defective equipment, lack of safety precautions, improperly maintained equipment, and chemical exposure.
Our law offices are familiar with the workers' compensation process and the legal issues that could arise. We know how to communicate with insurers and employers legally and effectively. If you try to process the claim on your own, you might be told that your injury was preexisting, that it's not bad enough to keep you out of work, or that it was all your fault.​ Using our legal services could drastically reduce the chance that your claim will be denied.
​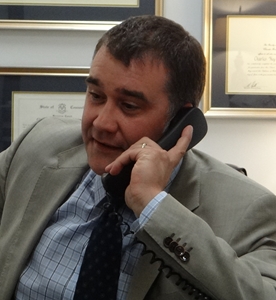 Charles K. Thompson
ATTORNEY AT LAW, LLC
Are You Looking for a Car Accident Lawyer in New Haven?
The Bottom Line: If You've Been Hurt in an Accident on the Road or on the Job, You Need an Experienced Personal Injury Attorney on Your Side. Call 203-235-0373